Tester hosted a roundtable discussion with VA officials, VSOs, and veterans to examine VA's sustained efforts to expand health care and benefits for toxic-exposed veterans and survivors under his historic bill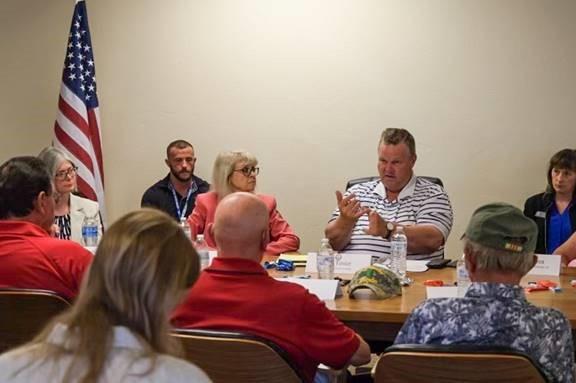 (Kalispell, Mont.) — U.S. Senator Jon Tester today joined veterans, Department of Veterans Affairs (VA) officials, and Veterans Service Organizations (VSOs) in Kalispell to hear firsthand about implementation of the Sergeant First Class Heath Robinson Honoring our Promise to Address Comprehensive Toxics (PACT) Act—legislation championed by Tester in his capacity as Chairman of the Senate Veterans' Affairs Committee to deliver generations of toxic-exposed veterans their earned health care and benefits from VA.
"Last summer, we came together to pass the PACT Act—a historic and long-overdue victory for toxic-exposed veterans and their families," said Tester. "Everyone around this table understands firsthand the importance of improving benefits and health care for our veterans, so I'm also proud to have worked with you to secure a new VA clinic here in Kalispell that will better serve the growing veteran population here. We'll keep working hand-in-hand to make sure VA is holding up its end of the bargain to every Montana veteran."
During the roundtable, veterans discussed their experiences applying for PACT Act-related health care and benefits, ways to simplify access to VA's website and resources, and Montana VA's outreach efforts. The Senator also encouraged toxic-exposed veterans who were previously denied VA health care and benefits before the PACT Act to reapply for care and benefits.
As Chairman of the Senate Veterans' Affairs Committee, Tester fought tirelessly for years alongside Montana veterans to deliver generations of toxic-exposed veterans their earned care and benefits under the PACT Act. Named after Sergeant First Class Heath Robinson who died in 2020 from toxic exposure as a result of his military service, this law provides health care for Post-9/11 combat veterans, creates a framework for the establishment of future presumptions of service connection related to toxic exposure, expands VA's list of service presumptions, and improves resources to support claims processing.
Since being signed into law last August, VA has received more than 706,000 PACT Act-related claims, including more than 3,500 in Montana. VA has also screened more than 23,000 Montana veterans for toxic-exposure-related conditions.
The PACT Act also included historic veterans infrastructure investments. Building off those efforts, VA announced in May that Kalispell veterans will receive a new, expanded clinic following sustained efforts from Tester. Tester worked with local veterans for years to secure the new clinic to better serve the growing veteran population in Kalispell, which will offer expanded health care services—including primary care, mental health, pharmacy services, and women's health—to an estimated 5,800 veterans in the area. He was also the only member of the Montana delegation who voted for the funding that allows VA to establish this new clinic.